We sat down with Dr. Tawainga Katsvairo, the featured Green.Org Person Of The Week. He is the founder and CEO of Better Universe and Citizens Inc, a 501(c)3 that works to reduce soil erosion, increase food security, and reclaim barren land for a green Haiti. The country of Haiti has among the highest soil erosion rates in the world, making the work of Dr. Katsvairo extremely important in our changing climates. Let's learn more about Tawainga:
Tell us a little bit about you and your background:
I am a consultant in agriculture, environmental studies, and emerging technologies. I hold a master's degree from Michigan State University and PhD from Cornell University in Crop and Soil Sciences. I have researched and published extensively on perennial grasses. I was drawn to Haiti after witnessing the massive soil erosion during rainstorms and its impact on the environment and people. This erosion is a result of deforestation.
I founded the nonprofit Better Universe and Citizens with a game-changing solution to plant deep-rooted and drought tolerant perennial grasses, which, unlike trees, cannot be harvested as charcoal. Most trees in Haiti are cut for charcoal. The grasses provide the initial ground cover to allow for diverse ecological succession that eventually turns into complex ecosystems. The program has been a success on a small scale, and we continue to expand. The grasses reduce soil erosion, reclaim barren lands, builds soil health, provides habitat for wildlife and livestock, protects watersheds, and builds sustainable and resilient communities. Hillsides stabilized with the grasses have withstood two hurricanes and stopped the devastating mudslides, protecting the environment and human life. These proactive measures reduce the adverse impacts of natural disasters and are especially important as more severe weather is encountered resulting from climate change.
What is a fun fact about you?
I am a classical music composer and a writer. My music has been performed in concert halls, chamber settings, and symposiums. I expect to publish my first two novels in 2022.
Why do you think climate change and sustainability is such an important topic today?
I am passionate about solving problems in the developing world. Climate change impacts poor nations and communities the most. The adverse effects of climate change are too detrimental to deny. This affects practically every aspect of our lives through rising sea levels, loss of agricultural land, damage to biodiversity, destroyed infrastructure, and so many other negative impacts.
Sustainable use of natural resources is vital for our very existence as a human race. History has numerous examples of dire consequences when we disrupt ecosystems and natural cycles. We can do so much better.
What do you envision your industry looking like 10 years from now?
The truth about climate change will hit home about 10 years from now. Soil erosion is often overlooked but has a massive impact on the environment. The situation will be much worse, and we must take the necessary steps now to reduce our impact — there is still time to act.
We believe soil erosion in Haiti and elsewhere in the world will become a story of the past!
The good news is that nations are becoming more aware of the adverse impacts if nature is not respected. Credit is due to Green.org for bringing awareness to the most important topics of our time.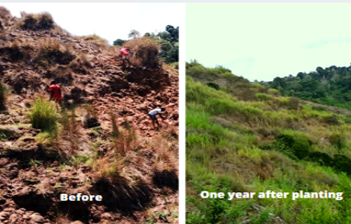 What can the average person do to make a difference?
Take all the small and necessary steps — recycle, reduce your carbon footprint, eliminate as much plastic and synthetics from your lives as you can, buy local, and reuse. We are all in this together. Be proactive towards climate change and environmental causes and dedicate time and effort to cleaning up your part of the world. Support causes on climate change and sustainability, locally and internationally. Reclaim barren lands and turn them green!
Green.Org is a television show, podcast, social media, and news platform, hosted by Dylan Welch, that highlights climate change scientists, renewable energy experts, and clean tech entrepreneurs by giving them a voice in the mainstream media. The Green podcast highlights leading experts in cleantech, sustainability, media, finance, and real estate. Tune in and subscribe to the podcast on Apple or Spotify to listen to interviews with leading cleantech and sustainable experts. If you are interested in being featured on Green, click HERE.