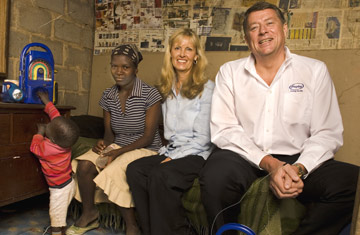 Green.org sat down with Rory Stear, Chairman of Flambard Holdings Limited, a UK holding company with a controlling interest in Flambard Capital Limited, to learn about his passion for renewable energy and the power behind installing solar energy.
Who is Rory Stear?
Rory Stear is Chairman of Flambard Holdings Limited, a UK holding company with a controlling interest in Flambard Capital Limited, a Malta headquartered international boutique investment and consulting company with holdings and mandates in telecommunications, solar energy, biotechnology and technology.
He is President and CEO of Baseline Bioscience, a Delaware, USA incorporated biotechnology company that rapidly identifies conditions linked to neurological diseases and trauma, by identifying biomarkers that present in saliva. He is Chairman of Etavi Renewables PLC, a UK renewable energy company that develops and operates large scale solar installations in Africa.
He co-founded, was Chairman and CEO of celebrated London listed human and solar powered products developer, Freeplay Energy and led the company from its inception until it's sale. Stear is an internationally experienced builder, leader and operator of businesses, including private and public companies, in the USA, UK, Africa and Asia. He is passionate about business addressing social issues while simultaneously ensuring strong returns for investors; true social enterprise.
Stear was BusinessWeek's ''Entrepreneur of the Year'', Time Magazine​ "Hero of the Environment"​ and a Time/Fortune/CNN "Principal Voice" on energy poverty. He served on the WEF Global Agenda Renewable Energy Council, the Deans Council of the Harvard Kennedy School and chaired the Business School at Nelson Mandela University. He received the Theodor Herzl Award from the Mayor of Jerusalem in recognition of his entrepreneurial success. He and his leadership of Freeplay Energy, have been featured in several books and two academic case studies.
Stear travelled with SA Presidents Nelson Mandela and Jacob Zuma on four state visits. He is a Knight of the Order of St John, a frequent public speaker, including at the WEF in Davos and Commonwealth Heads Of Government Summit and has been extensively profiled in the international media. He is the Honorary Consul for the Republic of Malta in the Eastern Cape Province of South Africa.
Rory, thanks for being here. We have a detailed background about you but tell us a little bit more about yourself from your own point of view.
I'm a British/South African entrepreneur and humanitarian. I founded and ran Freeplay Energy, an ultimately publicly traded energy company with a strong humanitarian focus and as a result of this journey, was invited to join various boards including the World Economic Forums Renewable Energy Council, the Deans Council at the Harvard Kennedy School and the Nelson Mandela University School of Business.
I was Time Magazines 'Hero of the Environment' and a Time/Fortune/CNN 'Principal Voice' on the issue of energy poverty in the Developing World. I am currently chairman of Etavi Renewables, a UK company developing large solar assets in Southern Africa and I am a director of Dorman Energy Group, a significant EPC in South Africa.
What is a fun fact about you?
I'm 6ft 7in tall!
Why do you think climate change and sustainability is such an important topic today?
I am passionate about addressing energy poverty. So much of the world has little or no access to electricity. This goes hand in hand with the desolation of the environment as forests are denuded, children are forced into the hazardous mining of charcoal and much more. Developing economies are huge users of fossil fuels especially coal. South Africa as a result is the eleventh biggest polluter on the planet. Driving widespread use of renewables addresses climate change while creating jobs: two imperatives.
What do you envision your industry looking like 10 years from now?
Already renewable energy companies are being seen as strong investments. A decade from now they will be amongst the largest companies in the world.
What can the average person do to make a difference?
Install solar in their homes. They can support organisations like Lifeline Energy who address access to Energy and information in the Developing World.
Rory, thank you for the work you are doing and addressing energy poverty.
Dylan Welch is the CEO and Host of Going Green, a podcast, website, and social media brand that highlights renewable energy, cleantech, and sustainable news.